Dutch Oven Accessories
Sam's Iron Works can help you with custom Dutch Oven Accessories. Items are hand forged in the US and designed for long life. Our powder coating gives a tough, long lasting finish.
Foldable Dutch Oven Cooking Stand
Very handy for all your cooking needs. Made from heavy 1/2" square tubing. Stand is 23" high and 16" wide. Holds 16" diameter tray to hold your charcoal. Two of the corners have a handy hook to hang your lid hook or Tongs. Folds to 23" x 18" x 1-1/2". Pan not included and must be ordered separately (AC-15).
Order No: AC-10
Price: $40
Weight: 5 pounds
Stand is designed to work with Charcoal Pan, AC-15 sold below.
Charcoal Pan
This handy oil change pan is made from heavy gauge sheet metal and is galvanized. It measures 17" in diameter and 3 3/4" depth. It holds plenty of coals for your cooking.
Order No: AC-15
Price: $12
Weight: 1 pound
________________________________
Portable Cooking Table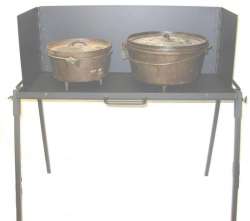 Strong enough for 6 Dutch Ovens
This ruggedly built cooking table is a must have for any serious Dutch Oven enthusiast. The main tray is made of 1/8" thick steel and measures 32" long x 14" wide x 1-1/8" deep. There are strong handles welded to each end to allow you to carry the table to another spot with coals and Dutch ovens on top. The unit comes with a 12" high wind screen that protects three sides of the table, four tubular steel legs and two straps that keep everything together for carrying. Remove the legs and wind screen and place in the tray. Put the straps on top and secure with the screws. The handle on the long side allows you to carry the table like a suitcase. Dutch ovens are not included.
Order No: AC-11
Price: $125
Weight: 33 pounds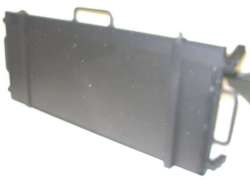 Everything goes together for easy storage.
.
Dinner Bell
Simple yet effective. Let your family know that dinner is ready with this happy sound. Triangle is made from 1/2" round stock and is 8" on each side. Striker is made from 3/8" round stock and is 16"long.
Order No: AC-26
Price: $10
Weight: 1 pound
Candle Sticks
These hand forged candle sticks are an elegant edition to any table. They come with a 4" round flower base and stand 8" high. Each one holds a standard dinner table candle. They are sold as a pair.
Order No: AC-25
Price: $30
Weight: 2 pounds
Dutch Oven Lid Lifter
Made from 3/8" round stock. This rugged tool can lift the largest lid, even with coals piled on top. Measures 17" in length and 4" at the widest part.
Order No: AC-16
Price: $9
Weight: 1 pound
Dutch Oven Horseshoe Lid Stand
This charming lid stand is made from real horseshoes. It measures 11" on each side and stands 2" high.
Order No: AC-18
Price: $13
Weight: 2 pounds
Dutch Oven Lid Stand
Simple and useful. This rugged stand is made from 3/8" round stock. It measures 7" on each side and stands 2" high.
Order No: AC-17
Price: $8
Weight: 1 pound
Charcoal Tongs
These rugged tongs are great for fine tuning your heat by rearranging your coals. These tongs are 14-1/2" long overall and have a 4" opening.
Order No: AC-27
Price: $7
Weight: 1 pound
International Dutch Oven Society
The IDOS is the premier organization for ALL Dutch oven enthusiasts. Learn More